It's a September call-ups edition of Big Hype Prospects. 
MLBTR's Steve Adams and Anthony Franco already highlighted each club's initial promotions. We'll use that list to focus in on the most interesting inclusions and snubs.
Five Big Hype Prospects
Gunnar Henderson
21, SS/3B, BAL (MLB)8 PA, 1 HR, 1 SB, .375/.375/.750
Two games into his major league debut, Henderson has already supplied a bevy of highlights in the field, at the plate and on the basepaths. The legend will only grow.
The Orioles second number one overall prospect to be promoted this season, Henderson's arrival could help spur the club to a postseason berth. Of all the players promoted by contenders, he has the most impactful potential.
While most playoff-bound clubs feature relatively complete rosters, Baltimore has regularly started Rougned Odor (406 PA, 0.1 fWAR). Additionally, third baseman Ramon Urias (2.0 fWAR) hasn't hit much since late-July.
Working Henderson into the infield mix should prove a net-positive in September even if he has some growing pains along the way. He's started one game at third and one at shortstop.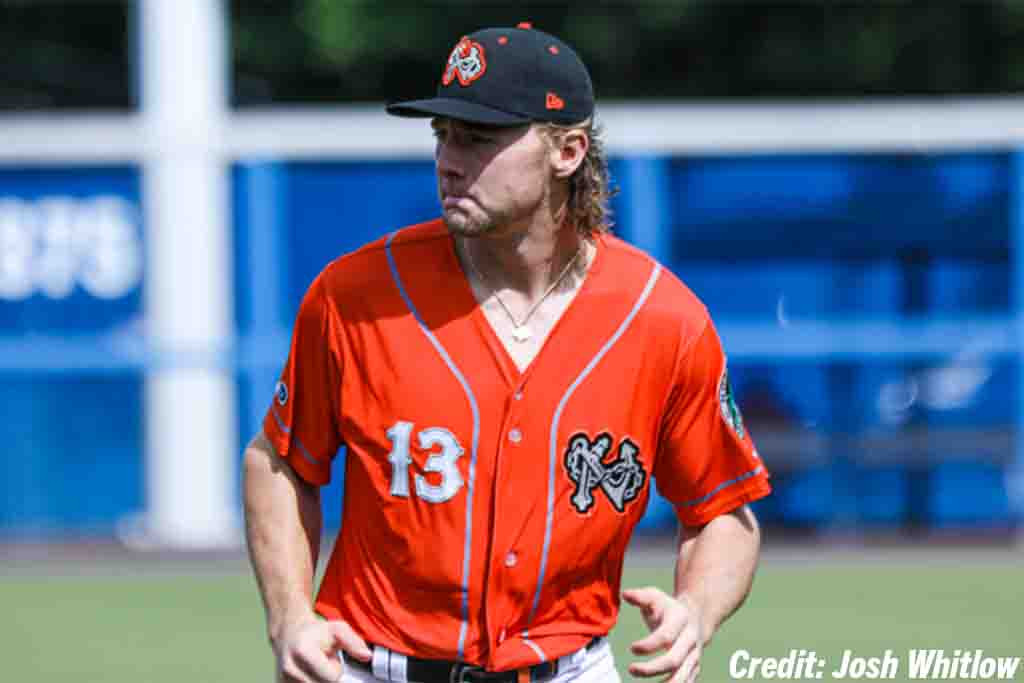 Hunter Brown
24, SP, HOU (MLB)(AAA) 106 IP, 11.38 K/9, 3.82 BB/9, 2.55 ERA
Depending on the seriousness of Justin Verlander's calf strain, Brown might draw some starts down the stretch this season. Initially, he'll be employed out of the bullpen with Cristian Javier rejoining the rotation in Verlander's spot.
This season, Brown successfully built upon a decent 2021 campaign in which longstanding command issues led to muted results.
Regardless of his future role, the stuff should play. The right-hander features premium fastball velocity and a pair of potent breaking balls. The curve pairs particularly well with his heater.
A pitcher scouting report is never complete without a comment about a "still-developing" changeup.
The success of players like Spencer Strider suggests a changeup or even a third offering of any kind shouldn't be viewed as a requirement. If Brown ultimately struggles as a starter, it'll be more due to his lack of command than his repertoire.
One odd little wrinkle: Brown posted a 54.2 percent ground ball rate this season.
That's roughly in-line with past performances. What makes it odd is the way his fastball and curve tunnel together lend themselves to a fly ball profile. I'll be watching closely to gain a better understanding of how he uses his repertoire.
Oswald Peraza
22, SS, NYY (MLB)(AAA) 429 PA, 19 HR, 33 SB, .259/.329/.448
As expected, the Yankees opted to grant Peraza his first taste of the majors. Many Yankees fans were clamoring for Anthony Volpe to leapfrog Peraza straight from Double-A.
Peraza profiles as a fairly classic shortstop prospect. Defensively, he's smooth and athletic. In an era riddled with oversized shortstops who post positive defensive metrics mostly due to positioning, Peraza should comfortably stand out as a quality defender.
His hitting remains a work in progress. The fantasy-oriented among you will surely note the excellent combination of power and speed. Yet, there's potentially a deeper issue with his triple-slash line. His plate discipline and feel for contact haven't been as effective as many hoped.
He remains quite young and could certainly continue to make gains in those areas. Early in his career, expect big league pitchers to prey upon his willingness to expand the strike zone.
Spencer Steer
24, 2B/3B, CIN (MLB) (AA/AAA) 492 PA, 23 HR, 4 SB, .274/.364/.515
A gamer the Reds picked up at the trade deadline from the Twins, Steer is poised to fill an everyday utility role in Cincinnati for the next half decade or more.
He profiles as an excellent fit for Great American Ballpark. While he's hit perhaps too many grounders since joining the Reds org, he's historically skewed towards fly ball contact.
His raw power is a tad fringy for his pulled, fly ball contact profile, but GABP is often the gift that keeps on giving to fly ball hitters.
No matter how his batted ball profile eventually shakes out, he has sufficient discipline and contact ability to stick in the majors. He might not ever be an All-Star, but he looks like somebody who should carve out a tidy career.
Jonathan Aranda
24, 1B/2B, TBR (MLB)(AAA) 465 PA, 18 HR, 4 SB, .318/.394/.521
Aranda isn't truly considered a top prospect due to physical attributes scouts have a hard time accepting. However, he has advanced feel for barreling the ball.
He's no better than league average from a raw power perspective, possibly even minus, but he makes up for it via a lofty, contact-driven BABIP and a healthy HR/FB ratio.
He's not a conventional prospect as he's a tad undersized for first base and isn't really sufficiently fleet-footed for a utility role.
However, the bat should play, and the Rays are absolutely the right org for figuring out how to squeeze him into the lineup without any detrimental effects.
With Brandon Lowe once again on the injured list, Aranda could bounce between second base and designated hitter. He also has minimal experience in left field.
Five More NAMES
Ken Waldichu
OAK (24): Waldichuk made his debut on Thursday. His command woes were on full display even while Nationals hitters were clearly uncomfortable.
The Washington offense is best considered a Quad-A unit. We'll see how Waldichuk fairs against true major league caliber opponents later this month.
Spencer Torkelson
DET (23): No longer technically a prospect because he made 298 plate appearances earlier in the season, Torkelson is nonetheless still a development piece. If one is hunting for positives, Torkelson hit particularly well at Triple-A in 58 plate appearances since mid-August.
On the whole, he posted a modest 100 wRC+ in 155 Triple-A plate appearances – hardly inspiring output for a former Top 10 prospect. He rejoins the big league lineup Friday.
Josh Jung
TEX (24): Perhaps the most notable snub, Jung has thrashed Triple-A pitching in 83 plate appearances.
The Rangers are using guarded language when talking about when they'll promote their top prospect. I'm now inclined to believe they intend to hold off on promoting him until next season.
While it's certainly plausible that they want another year of club control over Jung, he's not exactly… young. It's equally plausible the Rangers legitimately believe remaining in Triple-A will be better for Jung's health and development.
Esteury Ruiz
MIL (23): Following the Josh Hader trade, many thought Ruiz would immediately join the Brewers outfield mix.
Then, when they consistently passed him over even as the major league club floundered in the NL Central, it became clear they didn't believe he could improve upon the work of Tyrone Taylor, Jonathan Davis, Garrett Mitchell and others of questionable utility.
It's possible he's mostly on hand to serve as a pinch runner and defensive replacement. Notably, Ruiz has not homered since June 15, though he continues to run with aplomb.
Triston Casas
BOS, (22): Another roster expansion snub, Casas has hit .300/.410/.515 since rejoining Triple-A on July 22. He has 11 doubles, a triple, and five home runs over the same span.
While he appears to be both big league ready and an obvious upgrade over the Red Sox current mix of first basemen, the Red Sox appear to be undecided about how to handle Casas. They could be jockeying for the extra season of club control, or they might merely be delaying a decision.
Source: yardbarker.com